THE STORY THAT CHARMED MY AGENT AND THEN AN EDITOR AND WENT OUT INTO THE WORLD TO BE SHARED WITH READERS YOUNG AND OLD:
"A masterful intertwining of place and character."
Patricia MacLachlan, author of the Newbery Award Winner Sarah, Plain and Tall
***** SCBWI Work-in-Progress Grant (Letter of Merit)

***** Starred Review - Booklist

***** Top 10 Historical Fiction for Youth - Booklist Online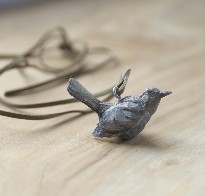 Working towards the publishing of a book requires a team. The wonderful folks at Random House not only did a photo shoot for the cover of the book but they had a woodcarver carve this catbird. Look closely at the book cover. Carolina is wearing it.


From the book:
Carolina reached up and felt the wood carving she wore as a pendant. She rubbed her finger over its wings and its tail, feeling where her daddy had made the cuts and where he'd sanded it smooth.
"I've a present for you, Carolina.
It's a catbird, case you couldn't tell."
She remembered that clear June night when they were camping up near Grandfather Mountain.
"Life your hair so I can tie a knot in the cord."
She remembered leaning into the crook of his shoulder and gazing into the night sky with the campfire crackling and blazing before them.
Balls of white fire trailing ribbons,
streaked across a black sky.
Told Daddy what Miss Ruby said
about shooting stars,
how they were angels lighting the way
for souls on their way to Heaven.
Carolina rubbed the tip of her finger over the catbird's beak. Her daddy had carved it open, as if it was singing.