My Story So Far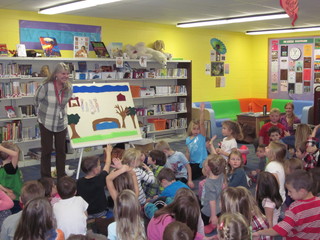 IT IS MY PASSION AND DELIGHT to write, to create story, to tell stories in the oral tradition and to promote literacy in young readers. Indeed, I have been doing so in one way or another for more than thirty years. As a young mom, I volunteered to serve as the librarian at my children's elementary school, I worked to bring cultural arts into the middle school, I served as the children's librarian at my local public library when the need arose, and as the proprietor of a children's bookshop, I became a storyteller, taught writing to elementary school age children and served on the board at a community college helping to develop initiatives in the Early Childhood Education Department.

Happily living in the "brave little state" of Vermont, I was, until very recently, the librarian at the Salisbury Free Public Library, a small rural village library. I focused on growing a relationship with the local elementary school, hosting a weekly Storytime and encouraging young readers to visit the library by hosting youth book clubs, art workshops for the after-school bunch and a Summer Reading Program jam-packed with activities and fun. I applied for and received a grant from the Children's Literacy Foundation (CLiF) which resulted in over $2,000 worth of brand new books for our library shelves.

Some years back, I was the proprietor of a children's bookshop in Concord, NH. Storytellers, Quality Children's Literature. I created it from scratch, even designing the logo and the sign that truly brightened up the street. What an education I received. I have many fond memories of all the events we held and the young readers who happily sprawled on the floor or curled up in our comfy corner to read. I also remember how hard I worked and the long hours I put in, and that's why I support my local independent bookstores.

Currently, I am a mentor with a literacy program called Everybody Wins! Vermont. Books and kids. Kids and books.

My mother always said, "If you can read, and read well, you can do anything."

Encouraging children to read is a worthy endeavor. A love of reading opens a child's world; instilling confidence and courage to try new things. Reading inspires. Reading is good for a curious mind.

One of seven children, I was raised by my Scots-Irish father who was a farmer for most of his life and my Scottish mother who was a homemaker as well as my favorite storyteller. I am grateful for the blessings of growing up in a large family in a rural farming community and I enjoy the simple pleasures that come with country living. My love of the natural world began with the freedom I had as a child; exploring woods and fields and ponds for whole days.

When I write stories, I know I am influenced by my parents' strong sensibilities and high values and I have a curiosity and desire to understand what makes us human and what connects us to one another. I create characters who are believable, characters who must rise up from adversity by finding their courage, characters who are guided by their heart. I write for children and I understand how stories influence a person and so I strive to write the very best that I can.

I credit libraries for offering me opportunities of learning. I remember the excitement of receiving my first library card; entering the children's room filled with picture books. I think libraries could be called The University for the People for it is the library that lets anyone proceed forward in self-directed studies. I feed my curiosity in everything from botany to cooking, and when conducting research for my own writing, I go to the library. The internet is full of false information but I figure the books in the library have gone through the vetting process. It's amazing what one can learn simply by reading.

In addition to Carolina Harmony, I have completed another mid-grade novel, am working on another as well as completing the first book in a trilogy for young adult readers and constructing numerous picture book manuscripts. I aspire to have my stories published so I may share them with lots and lots of readers, of all ages. For now, I am dedicated to the process. Tenacious and hard-working, my motto is Never Give Up.